Harrisburg City Council sets Trick-or-Treat hours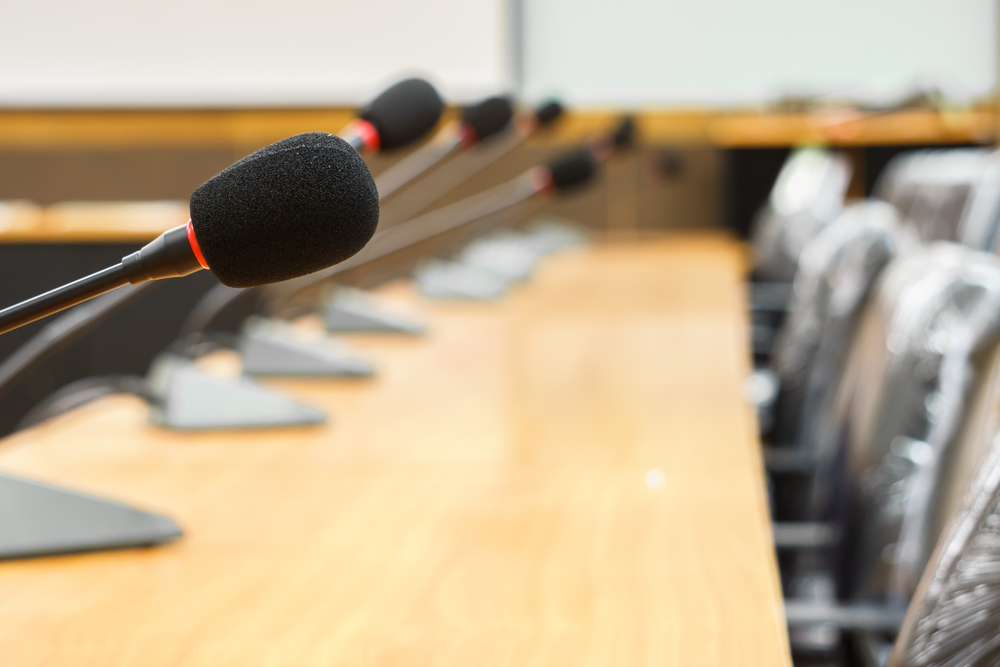 The Harrisburg City Council met Sept. 15 to set Trick-or-Treat hours.
Here are the meeting's minutes, as provided by the council:
Harrisburg City Council Meeting
Council Room, City Hall
Harrisburg, Illinois
Regular Meeting
September 15, 2016
6:00 PM
The Harrisburg City Council met on September 15, 2016 at 6:00 pm in the Council Room, City Hall,
Harrisburg, Illinois.
Mayor Dale Fowler presided over the meeting with Commissioners John McPeek, Natalie Miller, Beth
Montfort and Richard Harper answering roll call.
Pastor Chris Winkleman from the First Baptist Church led the group in prayer and the Pledge of Allegiance.
Mayor Fowler signed a Proclamation for National 4-H Week.
Commissioner McPeek made a motion to approve the following items under the Consent Agenda:
1. Minutes of the Regular Meeting of September 1, 2016.
2. Circuit Clerk's Court Fee Disbursements in the amount of $2,082.77.
3. Bill from Raleigh Ready Mix for concrete in the amount of $550.00 to be taken out of MFT.
4. Bill from Saline County Highway Department for bam in the amount of $7,965.23 to be taken out of
MFT.
5. Bill from Brown & Roberts for Dorrisville Watermain C & I in the amount of $14,653.89 to be taken
out of IEPA loan.
6. Bill from Marion Glass & Mirror for City Hall windows in the amount of $36,103.75 to be taken out of
TIF Escrow.
7. Bill from Sharp's Hearing & Air for air conditioners in City Hall auditorium in the amount of
$11,330.00 to be taken out of TIF Escrow.
8. Bill from Brown & Roberts for Skuta Construction Dorrisville Watermain in the amount of
$110,113.00 to be taken out of IEPA loan.
Commissioner Harper seconded. By roll call vote, all voted yes. Motion carried.
Abbey Reeves from Southeastern Illinois Regional Planning stated she had conducted a Public Hearing prior
to the Council meeting to receive public input on a proposed Department of Commerce & Economic
Opportunity Community Development Block Grant Housing Rehabilitation grant application. She had
explained the request would be for approximately $400,000.00 that would be awarded in May or June of next
year and would allow approximately $45,000.00 per house. She asked that Council pass a Resolution of
Support for the project. Commissioner McPeek moved to pass Resolution 16-0915 a Council Resolution of
Support to apply for a Community Development Block Grant Program grant. Commissioner Miller seconded.
By roll call vote, all voted yes. Motion carried.
Commissioner Montfort asked everyone to keep Fire Chief John Gunning in their prayers while he addresses
some medical issues. She stated the Fire Department is conducting four to five community risk reduction
events each week which will help the ISO rating.
She stated the new Police recruit Forrester graduated today and Chief Johnson had attended the event.
2
She stated that next week two Officers would be attending a field training event at John A. Logan.
Commissioner Montfort wanted Council to review the Code Book regarding security alarm charges.
Currently, a business is allowed four false alarm calls per year before a $100.00 fee is imposed. She believed
there was nothing out of taxpayers pocket to respond to an alarm even if it turned out to be false. She was
considering changing the number of allowable false alarms to possibly ten or even eliminating the charge. She
stated the fee had been put in motion in 2009 because there were lots of false alarms and one business in
particular did not fix their systems even after many false alarms. She did not want to hinder a new business but
she wanted what was best for the community. She stated that the City had to respond every time; the Police
cannot just not go even if the business has said to "let it go" because that procedure could put the City in
jeopardy should something actually happen. She wanted to revisit the Code Book. Commissioners Miller and
McPeek were in favor of no charge. Commissioner Harper stated there should be a number somewhere
everyone could agree with. Commissioner Montfort suggested that maybe after several false alarms the
business could be called. She would get the records from several years from Linda Sasser based on the
monthly report that Chief Johnson provides her and look at several years before making a recommendation.
Commissioner Montfort announced that Halloween Trick or Treat would be Monday, October 31 from 5:00 to
8:00 pm.
Commissioner Harper stated he had received a bid for some of the property previously advertised. He opened
a bid from Rick Garnett who submitted $100.00 for 517 Beggs and $100.00 for 1008 Oglesby. Commissioner
Harper moved to accept the bids. Commissioner Miller seconded. By roll call vote, all voted yes. Motion
carried. Commissioner Harper stated he would notify Attorney Todd Bittle to prepare separate paperwork for
those properties and the sale could be completed at the next meeting.
Commissioner Harper announced that Fall Clean Up would be October 8 through October 15. He explained
the details for Clean Up week.
Mayor Fowler asked Superintendent Kelly Hefner to explain the Corps of Engineers' letter in the packet.
Superintendent Hefner stated the levee inspection was done on February 25 but the report had not been
received until last week. The report states the levee is Minimally Acceptable which is the usual rating. Some
of the conditions listed had been corrected. He stated attention should be given to b. and d. in the letter. He
asked Council to authorize Brown & Roberts to draft a letter to get permission to have the toe drains
abandoned. He stated the City had emails to and from the person who previously held the position as Program
Manager that indicated the Corps would help with the expense of that, but now the Corps wanted the City to
bear the expense. He asked Council to also authorize Brown & Roberts to draft another letter asking for
assistance with the expense of abandoning the toe drains. Commissioner McPeek moved to authorize Brown
& Roberts to draft letters to the Corps asking for permission to abandon the toe drains and for financial
assistance for that project. Commissioner Harper seconded. By roll call vote, all voted yes. Motion carried.
Citizen Denzel Butler addressed Council asking for an update on his complaint about a neighbor's house.
Commissioner Montfort stated she had contacted Code Enforcement Officer David Williams who had posted
the house for debris, trash and junk vehicles. She stated certified letters had been sent but the letters had not
been claimed. Even though the owner did not sign for the letters, he has until September 21 to correct the
conditions. On September 22, if the conditions are not corrected, the City can do the cleanup and then liens
3
will be placed on the property for the cost of that clean up. Butler also wanted something done about another
house. Commissioner Montfort stated she would have Williams look into that.
Citizen Jonathon Gericke addressed Council regarding the levee. He stated that since the levee was such a
great expense, they should develop a long range plan to abandon the levee and move out of the flood plain
area. He believed the levee was a money pit.
Commissioner Harper asked if he could do some research on the process of all the registered letters that are
sent for liens. He stated the secretary is following the plan as she has been directed but he believed the plan
needs to change because there was no point in just continuing to send letters and nothing gets done. Council
supported his efforts.
Mayor Fowler moved to adjourn the meeting. Commissioner McPeek seconded. By roll call vote, all voted
yes. Motion carried.
Adjourned: 6:28 pm
Want to get notified whenever we write about
City of Harrisburg
?
Next time we write about City of Harrisburg, we'll email you a link to the story. You may edit your settings or unsubscribe at any time.
Sign-up for Alerts
Organizations in this Story
More News