Illinois state Rep. Darren Bailey (R-Louisville) listens to a constituent in Jasper county. | facebook.com/BaileyforIllinois
Illinois state Rep. Darren Bailey (R-Louisville) laments the fact that he can almost predict each day's news coming out of the state's capital.
"It's like at least once a week we'll hear of some ridiculous story about misappropriations, fund sweeping or flat-out corruption coming from Springfield," he told the SE Illinois News. "And it's almost just as predictable that it will be followed up by Gov. [J.B.] Pritzker calling for another one of his task forces, which is just a joke because none of them really accomplish anything."
State lawmakers have allegedly steered to different areas of government around $30 million that was intended for the Illinois State Police to facilitate gun registrations, concealed-carry licensing and other services. The misappropriation is to have occurred over the last five state budgets.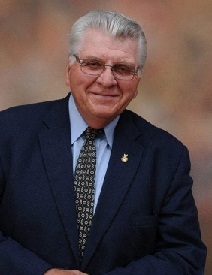 ISRA Executive Director Richard A. Pearson
According to Illinois State Rifle Association (ISRA) Executive Director Richard Pearson, the deception was only discovered after ISRA officials decided to probe how FOID and concealed-carry programs are managed in the face of efforts by anti-gun groups to enact legislation that would have more than doubled FOID card fees. Pearson shakes his head in disbelief because part of the reason given for the proposed FOID card fee increase was that the program was underfunded.
"It's another example of trusting government to do the right thing and getting something totally opposite of that," Bailey said. "All these funds being secretly diverted, I'm surprised it's not illegal. But in Illinois, even that wouldn't have stopped them."
Bailey believes there's more behind the deception than meets the eye.
"I think it's just more proof of [Democrats'] agenda to take our guns away," Bailey said. "That money was earmarked to stay with the state police, and the area where it was supposed to go is now being called underfunded. I get calls every week from people that haven't received their FOID cards or conceal-carry paperwork and, as a result, aren't legally able to arm themselves."