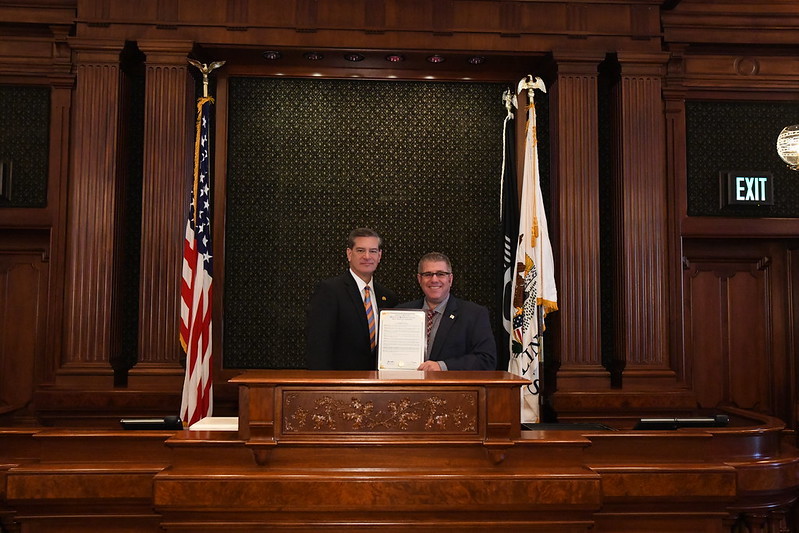 Illinois Chamber of Commerce President and CEO Todd Maisch (left) and House Rep. Darren Bailey (R-Xenia)
Illinois Chamber of Commerce president and CEO Todd Maisch recently accepted a resolution filed by first-term state Rep. Darren Bailey (R-Xenia) honoring the organization's 100th anniversary.
"I am proud to sponsor this resolution to recognize 100 years of the Illinois Chamber of Commerce," Bailey said at a press conference held at the Illinois House Chamber. "We are all grateful that for 100 years the Illinois Chamber of Commerce has been fighting for the very jobs and economic growth that support our families and help our communities thrive, and I am proud to fight alongside them for a better Illinois."
Some of the organization's most recent accomplishments include leading the resistance to a proposed 50-percent income tax increase and a new service tax, focusing on lowering property taxes, improving workforce opportunities and promoting pro-business reforms.
"A lot has changed in a century, but our core principals and commitment to our members remain steadfast," Maisch said in the release. "We are encouraged by all those who fought for business policies that work before us and I'd like to think future presidents will write about 2019 as the year the chamber fought and won against the progressive income tax, ensured the market would determine wages and worked with legislators to make Illinois a better, more business-friendly state."